Get our weekly newsletter delivered right to your inbox and never miss out on the latest in international trade news, cross-border issues and customs regulations.
Rail Freight Services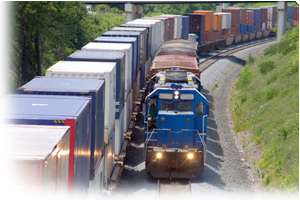 Rail transport is one of the most effective transport solutions to cover coast to coast shipping needs with a relatively affordable budget for the movement of goods. ABC works with the two National Canadian Rail Carriers in addition to working with major Intermodal Marketing Companies who provide integrated multi-modal service.
Rail car options:
Standard box car
Grain cars
Liquid transport cars
Intermodal trailer and container options
Gondola cars
Typical rail client or situations:
Transshipment of Ocean Goods to inland or costal destinations
Pulp, Paper, Lumber, Grains, Automobiles, Starch
Large consolidations , Multi box car
Overweight Machinery
Non perishable material
Get a Rail Freight Quote Ask a Question