Get our weekly newsletter delivered right to your inbox and never miss out on the latest in international trade news, cross-border issues and customs regulations.
Air Freight Services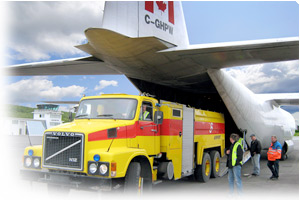 For those shipments that are urgent, time-sensitive and/or in remote locations, air freight is the most efficient and fastest form of transport from point A to point B. ABC's elite team of air logistics professionals will match your needs with the specific air transport routing, along with the correct aircraft type and size. From commercial passenger, freighter aircraft to dedicated exclusive charters, we can accommodate any air solution required.
Available air freight equipment and options:
IATA spec air containers and pallets
Palletized cargo, strapping
Crating and re-packaging
Full cargo aircraft, 20 foot pallets - to bulk load cargo aircraft
Small, medium and large cargo and passenger aircraft available
Helicopter lift of 1200 kgs
Heavy lift helicopters - up to 27,000 lbs vertical lift
Air transport - who & why:
Aerospace Industry
Perishable suppliers
Manufacturing - (plant shut down and/or relocation)
Live animals
Urgent & critical (must depart and arrive at a definitive time)
Live entertainment
Special events
Delay in transit (weather delay, production delays)
Remote location (only accessible by air, helicopter, gravel strip)
Get an Air Freight Quote Ask a Question