Get our weekly newsletter delivered right to your inbox and never miss out on the latest in international trade news, cross-border issues and customs regulations.
Company Profile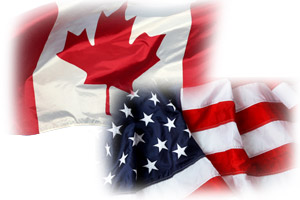 At ABC Customs Brokers, we work hard at keeping it simple. We aim to exceed our client's expectations by providing exceptional services, strategic solutions, and unmatched client satisfaction 24 hours a day, 7 days a week. We can obtain clearances at any Customs commercial port of entry: AIR-OCEAN-GROUND anywhere in Canada and the United States.
Unlike other customs brokers, ABC is able to offer an array of services that will fulfill all of your cross-border shipping requirements. Our commitment to priority service will ensure that your shipments are handled professionally and promptly. Our dedication to exceptional service is demonstrated through our 24/7 operational hours and our live reception team. It is our belief that personal contact and common sense cannot be replaced by telephone technology. ABC's highly trained Reception Team will promptly answer and direct all calls, urgent or non-urgent, to the appropriate operations department. You can be assured your call is important to us and will be answered.
ABC Customs Brokers has been privately owned and operated for 55 years with a dedicated staff consisting of Licensed Customs Brokers, Certified Customs Specialists and Professional Logistics Specialists whom have as much as 35+ years of international trade experience. Our team will provide you with logistical solutions and trade compliance management for all your international shipment needs. Our produce knowledge is second to none. We have a department of Certified Customs Specialists dedicated to 24/7 high volume of clearances:
Aerospace
Agriculture
Concerts / Entertainment
Construction
Electronics & High Technology
Fish & Shellfish
Forestry & Lumber
Grocery Items
Mining Special Projects
Petroleum & Chemical Industries
Produce Specialists
Sports & Special Events
Textiles Industry
Professional Services
We offer a variety of professional services which afford our clients seamless and one-stop international trade solutions.
Customs Brokerage Services
Canadian Customs Brokerage
U.S. Customs Brokerage
Trade Compliance Seminars
Freight Forwarding Services
Air Freight
Ocean Freight
Truck Freight
Rail Freight
Project Freight
Specialty Freight
Charter Freight
Shipment Tracking
Transportation Management Services
Warehousing & Distribution
Memberships & Associations
Proud members of:
British Columbia Produce Marketing Association
Canadian Produce Marketing Association
Canadian Society of Customs Brokers