Get our weekly newsletter delivered right to your inbox and never miss out on the latest in international trade news, cross-border issues and customs regulations.
Entertainment Industry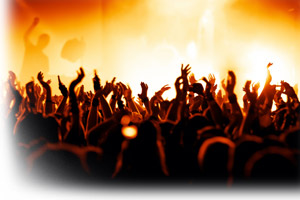 ABC Customs Brokers is Canada's leading customs broker for concert tours, circuses, orchestral and theatrical productions, and movie productions. Our clients include companies such as:
Logistics coordinators for the largest rock bands in the world entering Canada
Tour Managers for concert tours and promotional houses
Production equipment suppliers such as power generators, tenting, fencing, security equipment, etc.
Other customs brokers and freight forwarders who look to ABC Customs Brokers support and shipping expertise
Our culture of problem solving, serving time sensitive shipments, and always open, allows us to excel in the sports and special events business. Our 55+ years in the business has developed our expertise and systems to serve both large and small events, and will help ensure your items clear entry through customs with a minimum of delays.
Contact Us for Entertainment Shipments
Often times, event related items arrive at customs with the following:
Incomplete or incorrect shipment manifests
Incomplete customs invoice information
Insufficient export documentation from the exporting country (example: Form 4455 from the U.S.A.)
ABC Customs Brokers will work closely with event logistics staff to coordinate the following:
Complete shipment manifests accurately
Clear understanding of how the goods will enter the country from the Canada Border Services and U.S. Customs & Border Protection perspective:

Consumption entry
ATA carnet entry for further export
Temporary import for pending return to the origin country (Canadian Form E-29B)
A 1/60th entry
U.S.A. temporary export
Cancellation of Canadian Bonds open departure
E-15 Form
While simple in its purpose, problems with documentation can cause costly delays, placing special events in jeopardy, by certain shipments or goods not be allowed access into the country.
Educational Seminars and Workshops with your event logistics staff to educate and inform you of how best to prepare for the event.
Assist in planning transportation to facilitate on-site deliveries.