Education
Download our 2018 spring schedule today!
Webinars
Seminars
About Trade Compliance Education »
Customized Education »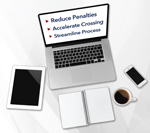 Customs Valuation
Clicking the Register Now button will redirect to www.pcb.ca for online registration.

Explore Transaction, Deductive and Residual Value
Type: In-class seminar
Name: Customs Valuation
Date: Thursday, May 10, 2018
Place: ABC Customs Brokers, 17637 1st Avenue, Surrey, BC
Presenter: April Collier
Time: 9:00 am - 2:00 pm PT
Fee: $157 CAD plus GST (per attendee)
Are you responsible for your company's customs compliance into Canada or the United States? If you are familiar with international trade then you likely know that customs valuation is only one of the many complex aspects of importing and exporting that you must consider. With so many rules surrounding each method of valuation (or appraisement) it is difficult to know which is the correct one to apply. The CBSA, CRA, CBP and IRS are completely separate government agencies that at times value goods differently than one another; therefore, in this seminar you will be walked through the definitions of each of the six methods including real-life applications for them.

Topics Include
Price paid or payable
Transaction value
Methods of appraisement / valuation
Deductions and additions
Related party transactions
First sale

What constitutes a sale?
Valuation pitfalls
Monetary penalties
Reasonable care
Reason to believe
Rulings

Your Questions
What is customs valuation?
What methods of valuation are there?
What is transaction value?
How do I figure out what method of valuation to use?
What does price paid or payable mean?
What is a related party transaction?
What does reason to believe mean?
What is a first sale?

Attendee Comments
"Deepened my knowledge of general info and especially on AMPS and amendments timeline." - Christopher Danton, Warehouse and Distribution Manager, Jackpot Digital

Who Should Attend
Owners, Managers, Supervisors, Coordinators, Logistics and Accounting staff of companies:
Responsible for customs compliance
Confused on which valuation method is correct

Exhibiting reasonable care
Under review by customs

Have questions or comments about this course? 888.432.5403 or email us today.