Education
Download our 2018 spring schedule today!
Webinars
Seminars
About Trade Compliance Education »
Customized Education »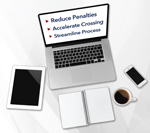 Exporting from Canada
Clicking the Register Now button will redirect to www.pcb.ca for online registration.

Expand Your Business into Global Markets
Type: In-class seminar
Name: Exporting from Canada
Date: Thursday, May 3, 2018
Place: ABC Customs Brokers, 17637 1st Avenue, Surrey, BC
Presenter: Robin Olafson
Time: 1:00 pm - 4:00 pm PT
Fee: $97 CAD plus GST (per attendee)
Have you successfully expanded your sales into the United States and are now considering expanding your business further out from Canada? If you need help with incoterms and want to learn about choosing the right terms of sale for your shipments then this seminar is for you. Whether you are a resident or non-resident importer (NRI) this seminar will guide you from obtaining a business number, letters of credit and export permits, choosing the best mode of transport all the way through to reporting your exports.

Topics Include
Obtaining a business number
Export controls and sanctions
Export permits
How to report your exports
Import and export documentation
Free trade agreements

Incoterms®
Financing arrangements
Letters of credit
Modes of transportation
Temporary exports
Fines and penalties

Your Questions
What are incoterms?
How do I report my exports?
How to apply for a business number?
How do I get an export permit?
What are export controls?
What is a sanction
What is a temporary export?
What is an incoterm?

Attendee Comments
"Clear conveyance of lessons. Enough time for Q & A." - Rafael Diego II, Logistics Coordinator, Canadian Fishing Company

Who Should Attend
Owners, Managers, Supervisors, Coordinators and Logistics staff of companies:
Considering expanding business outside USA
Seeking information on Incoterms®

New to the CAED application
Seeking information on non-resident importing

Have questions or comments about this course? 888.432.5403 or email us today.