Education
Download our 2018 spring schedule today!
Webinars
Seminars
About Trade Compliance Education »
Customized Education »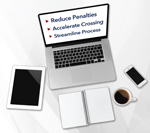 CDN Importing for Beginners / CFIA Regulated Goods
Clicking the Register Now button will redirect to www.pcb.ca for online registration.

Learn the Basics of Importing into Canada and Your OGD Requirements
Type: Online webinar series
Name: Canadian Importing for Beginners and CFIA Regulated Goods
Date: Wednesday, April 25, 2018
Place: Online from any computer or mobile device
Presenter: Gloria Terhaar
Note: Attendees may register for any one or both sessions in the series
Importing for Beginners Part 2

Time: 7:00 am - 8:00 am PT
Fee: $57 CAD plus GST (per attendee)

CFIA Regulated Goods

Time: 8:15 am - 9:15 am PT
Fee: $57 CAD plus GST (per attendee)
Combined fee: $107 CAD plus GST (per attendee)
Are you responsible for your company's customs compliance into Canada? Are your goods regulated by the Canadian Food Inspection Agency (CFIA)? Are you in charge of completing the customs documents for your company? Whether you are new to this, been doing this for a while, or just getting started and you need quick answers to your questions regarding Canada Customs and or CFIA, then these 60-minute webinars are for you. We will introduce you to the processes, required documents, notifications, penalties, responsibilities of the parties involved and more.

Topics Include
Importing for Beginners

Roles of the parties involved
Tariff classification
NAFTA
PST / GST / HST
Excise tax
Non-resident importing
Methods of valuation
Transportation costs
ACI eManifest
Customs audits and examinations
AMPS and non-compliance

CFIA Regulated Goods

About the CFIA
Acts and regulations
Import licensing
Import permits
Documentation requirements
Wood packaging
ISPM 15
Customs release process
Automated Import Reference System
Post-entry changes
Penalties

Your Questions
How to import into Canada?
What documents do I need to import into Canada?
What does CFIA regulate?
What documents do I need for CFIA?
What are wood packaging regulations?
What is a confirmation of sale?
How will the Food Safety Act affect me?
Do I need a permit?

Who Should Attend
Owners, Managers, Supervisors, Coordinators and Logistics staff of companies:
Under review by CBSA
Under review by CFIA

Importing with new staff
Confused about additional OGD requirements

Have questions or comments about this course? 888.432.5403 or email us today.