Education
Download our 2018 spring schedule today!
Webinars
Seminars
About Trade Compliance Education »
Customized Education »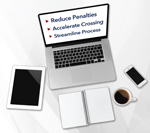 FDA
Clicking the Register Now button will redirect to www.pcb.ca for online registration.

Did You Know A CBP Release ≠ A FDA Release?
Type: In-class seminar
Name: U.S. Food and Drug Administration
Date: Thursday, April 12, 2018
Place: ABC Customs Brokers, 17637 1st Avenue, Surrey, BC
Presenter: Terra Estep
Time: 9:00 am - 12:00 pm PT
Fee: $97 CAD plus GST (per attendee) *Discounted fee of $157 if combined with CFIA.
Are your goods regulated by the U.S. Food and Drug Administration (FDA)? Are you responsible for your company's customs compliance into the USA? Are you in charge of completing the customs documents for your company? Whether you've been doing this for a while, new to this or just getting started and you need an expert to take the time to answer your questions regarding FDA regulated goods entering the United States, then this seminar is for you. A shipment's successful delivery does not mean a successful release by the FDA has been obtained. In this seminar we will teach you the difference, review FDA requirements and walk you through the entry process as well as new and existing acts and regulations. If you also ship regulated goods into Canada, consider attending our CFIA seminar to receive a discounted fee.
Note: If you are seeking FDA information for the medical industry, please advise in advance.

FDA Regulated Goods and Industries
Seafood, produce, grocery, meat, veterinary medication and devices, livestock feed and pet food, cosmetics, vitamins, medical devices, drugs for humans, and radiation emitting devices.

Topics Include
FDA regulatory responsibilities
Food Safety Modernization Act
Bioterrorism Act
Documentation requirements

FDA prior notice requirements
FDA review/exam/sample procedures
Partner government agencies
Liquidated damages and penalties

Your Questions
What does FDA regulate?
What documents do I need for FDA?
What is prior notice?
What is the Food Safety Modernization Act?
What is FSMA?
How will the Food Safety Modernization Act affect me?
My company was selected for a customs audit now what?

Attendee Comments
"Exceeded all my expectations. Thank you!" - Enid Vadeanu, Procurement Manager, Freybe Gourmet Foods

Who Should Attend
Owners, Managers, Supervisors, Coordinators and Logistics staff of companies:
Importing FDA regulated goods
Under review by CBP and/or FDA

With newly hired staff
Anyone involved in the U.S. import process

Have questions or comments about this course? 888.432.5403 or email us today.