Education
Download our 2018 spring schedule today!
Webinars
Seminars
About Trade Compliance Education »
Customized Education »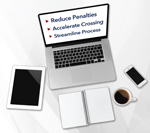 Free Trade Agreements
Clicking the Register Now button will redirect to www.pcb.ca for online registration.

Understand Commodity Composition Rules and FTA Eligibility
Type: In-class seminar
Name: Free Trade Agreements
Date: Thursday, March 22, 2018
Place: ABC Customs Brokers, 17637 1st Avenue, Surrey, BC
Presenter: April Collier
Time: 9:00 am - 2:00 pm PT
Fee: $157 CAD plus GST (per attendee)
Are you the party responsible for signing the NAFTA Certificates of Origin at your company? Are you trying to figure out whether your goods are NAFTA eligible? Are the NAFTA Rules of Origin raising more questions than answers? If you thought yes to any of these questions then this seminar is for you. You will learn definitions specific to NAFTA, how to determine eligibility, how NAFTA works with non-resident importing, how to fill out a NAFTA certificate field by field, and more. If you are the party that signs this document, pay close attention to the disclaimer you are signing.

Topics Include
History of NAFTA
Certifications and definitions
Rules of origin
Non-resident importing
Eligibility options
Regional value content

Country of origin
Marking determination requirements
Post-entry claims
Post-entry amendments
Audit verifications
Case studies

Your Questions
What is NAFTA?
What is TPP?
What is CETA?
Are my goods eligible for NAFTA?
Are my goods duty free?
How do I claim NAFTA?
How to fill out a NAFTA Certificate?
How to calculate net cost?
What is a NAFTA verification?
My NAFTA was rejected now what?
How to apply for NAFTA?

Attendee Comments
"Good understanding of FTAs and their impact. Valuation information was good." - Peter Chivers, Manager Operations and Finance, Red Leaf Architectural Products Inc.
"Very interesting speakers! Entertaining content." - Ronald Lee, CEO, Eat Marketing
"Well done. Educational and informative." - Eric Petronio, Sales / Purchasing / Repairs, Murray Latta Progressive Machine Inc.
"Nice balance of examples and facts. Examples (and questions) helped build understanding." - Christopher Danton, Warehouse and Distribution Manager, Jackpot Digital Inc.

Who Should Attend
Owners, Managers, Supervisors, Coordinators and Logistics staff of companies:
Seeking duty relief eligibility
Under review by CBSA or CBP

Responsible for customs compliance
Involved in completing customs documentation

Have questions or comments about this course? 888.432.5403 or email us today.