Education
Download our 2018 spring schedule today!
Webinars
Seminars
About Trade Compliance Education »
Customized Education »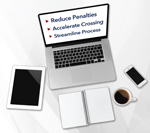 Shipping Perishables
Clicking the Register Now button will redirect to www.pcb.ca for online registration.

Stress Free Movements for Time-Sensitive Goods
Type: In-class seminar
Name: Shipping Perishables
Date: Thursday, March 15, 2018
Place: ABC Customs Brokers, 17637 1st Avenue, Surrey, BC
Presenter: Robin Olafson
Time: 9:00 am - 12:00 pm PT
Fee: $97 CAD plus GST (per attendee)
Shipping products long distances is stressful enough, but add an expiry date on that same cargo - as you must on anything perishable - and the stress multiplies significantly. Are you interested in learning the pros and cons of shipping perishable products, the modes of transportation available, shipping equipment, routing options and transit times? If you are considering shipping perishables and want to learn how to protect your product, security requirements for perishable shipments as well as which additional documents are required then this seminar is for you. Let's take the stress and fear out of moving your perishables across land, sea, air and all of their borders.

Topics Include
The product's strengths and weaknesses
Shipment handling
Shipping equipment - know what it can and cannot do for you
Routing options and transit times
How to protect your product

Security requirements (domestic and foreign)
Documentation
Customs (domestic and foreign)
CFIA
Foreign food inspection agencies

Who Should Attend
Owners, Managers, Supervisors, Coordinators and Logistics staff of companies:
Considering shipping perishable goods
Responsible for transportation selection

Responsible for customs compliance
Involved in the movement of perishables

Have questions or comments about this course? 888.432.5403 or email us today.