Education
Download our 2018 spring schedule today!
Webinars
Seminars
About Trade Compliance Education »
Customized Education »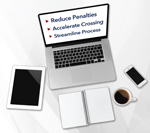 NAFTA for Beginners
Clicking the Register Now button will redirect to www.pcb.ca for online registration.

What You HAFTA Know When Claiming NAFTA
Type: Online webinar series
Name: NAFTA for Beginners
Date: Wednesday, March 7, 2018
Place: Online from any computer or mobile device
Presenter: Misty Gibbins and Terra Estep
Note: Attendees may register for any one or both sessions in the series
Part 1

Time: 7:00 am - 8:00 am PT
Fee: $57 CAD plus GST (per attendee)

Part 2

Time: 8:15 am - 9:15 am PT
Fee: $57 CAD plus GST (per attendee)
Combined fee: $107 CAD plus GST (per attendee)

Are you trying to figure out whether your goods are NAFTA eligible? Are the NAFTA Rules of Origin creating more questions than answering your original ones? Are you the party responsible for signing the NAFTA Certificates of Origin for your company? If you answered yes to any of these then this webinar series is perfect for you. In Part 1 you learn about various roles and their responsibilities, definitions specific to NAFTA, how to determine eligibility and in Part 2 you jump into a basic guide for filling a certificate out field by field. If you are the party that signs this document, pay close attention to the disclaimer you are signing.

Topics Include
Part 1

What is NAFTA
NAFTA objective and eligibility
What is a Certificate of Origin
Exporter / Producer / Importer roles
NAFTA definitions
Considerations
Binding rulings
Consequences of non-compliance

Part 2

Completing a NAFTA certificate
Regional value content
Rules of origin
Preference criteria
Helpful hints
Reasonable care
Due diligence
Potential pitfalls
Who Should Attend
Owners, Signing Officers, Managers, Supervisors, Coordinators and Logistics staff of companies:
Under review by CBSA or CBP
Contemplating free trade agreement use

Importing with new staff
Confused about their product's eligibility

Have questions or comments about this course? 888.432.5403 or email us today.