Education
Download our 2018 spring schedule today!
Webinars
Seminars
About Trade Compliance Education »
Customized Education »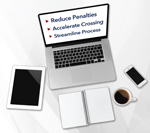 US Trade Compliance
Clicking the Register Now button will redirect to www.pcb.ca for online registration.

U.S. Importing Roles, Customs Regulations, Importing Inspections, and Customs Audits

Type: In-class seminar series
Name: U.S. Trade Compliance
Date: Thursday, February 22, 2018
Place: ABC Customs Brokers, 17637 1st Avenue, Surrey, BC
Presenter: April Collier
Note: Attendees may register for any one or both sessions in the series
Part 1

Time: 9:00 am - 12:00 pm PT
Fee: $97 CAD plus GST (per attendee)

Part 2

Time: 12:30 pm - 3:30 pm PT
Fee: $97 CAD plus GST (per attendee)
Combined fee: $157 CAD plus GST (per attendee)
Are you in charge of completing the customs documents for your company's imports or exports? Are you responsible for your company's customs compliance into the U.S.? Whether you are new to this or not, if your goods enter the United States and you need an expert to take the time to answer your questions, then this seminar series is for you. In Part 1 you learn how to avoid triggering a customs audit by creating a set of practice standards for U.S. Customs compliance and in Part 2 you learn what to do and what to expect if and once your company is selected for a U.S. Customs audit.

Topics Include
Part 1

Responsibility of the importer
Role of the customs broker
CBP and partner government agencies
Country of origin
Tariff classification
Free trade agreement eligibility
Entry types
Required documents and forms

Part 2

Priority trade issues
Customs audit triggers
Reasonable care
Record keeping
Risks of non-compliance
Liquidated damages and penalties
Prior disclosure
C-TPAT enrollment and benefits

Attendee Comments
"I did not know it is the importer's responsibility for correct tariffs. Great to know!" - Angela Austin, Sales Manager, Farmers Fresh Mushrooms Inc.
"Best part were the documentation examples (Proforma, NAFTA, Invoice)." - Joe Scully, Operations Technician, Patterson-UTI Drilling Canada Limited
"Met my expectations [particularly] with customs compliance and the repercussions of non-compliance." - Randy Watson, Import/Export Coordinator, Rimex Supply
"I found the information very helpful. I'm completely new to this and this is a great foundation." - Victoria Pearson, Controller, Natures Formulae Health Products
"Learned a lot and took time to answer questions. Very helpful." - Brian Gillan, Logistics Coordinator, Hillsound Equipment
"I understand what questions to ask my broker and what exactly their role is." - Dawn Warkentin, Warehouse Inventory Coordinator, JD Sweid Foods

Who Should Attend
Owners, Managers, Supervisors, Coordinators and Logistics staff of companies:
Currently importing into the U.S.
Under review by U.S. Customs

With newly hired staff
Anyone involved in the U.S. import process

Have questions or comments about this course? 888.432.5403 or email us today.