Education
Download our 2017 fall schedule today!
Webinars
Seminars
About Trade Compliance Education »
Customized Education »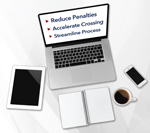 US Importing for Beginners

Learn the Fundamentals of Importing into the United States
Type: Online webinar series
Name: U.S. Importing for Beginners
Date: Wednesday, September 6, 2017
Place: Online from any computer or mobile device
Presenter: Terra Estep
Note: Attendees may register for any one or both sessions in the series
Registration: Clicking the Register Now button will redirect to www.pcb.ca for online registration.
Part 1

Time: 7:00 am - 8:00 am PT
Fee: Complimentary

Part 2

Time: 8:15 am - 9:15 am PT
Fee: $57 CAD plus GST (per attendee)
Are you new to importing into the U.S. and wondering what documents you need for U.S. Customs? These 60-minute webinars will provide you an efficient and easy to follow introduction to the importing process into the United States. We will cover a brief overview of how to accurately complete documentation, the parties involved in the supply chain, basic compliance considerations prior to importing, common entry types, free trade agreement eligibility, possible risks of non-compliance such as penalties and more.

Topics Include
Part 1

Parties involved
Considerations prior to importing
Tariff classification and its impact
Free trade agreements
The customs release process
U.S. Customs bonds
Entry types
Documentation requirements
Consequences of non-compliance

Part 2

Review/expand on Part 1
Non-resident importing
Methods of appraisement
NAFTA
ACE eManifest
Common invoice errors
Duty assessment and rulings
Importer security filing
AMPS

Who Should Attend
Logistics staff of:
Companies considering importing
Companies recently started importing

Companies importing with new staff
Anyone involved in the import process

Have questions or comments about this course? 888.432.5403 or email us today.