Education
Download our 2017 Spring/Summer Program today!
Seminars
About Trade Compliance Education »
Customized Education »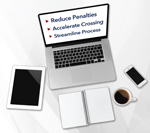 C-TPAT & PIP
Register Online Register Offline
Customs-Trade Partnership Against Terrorism and Partners in Protection Seminar
Save Time and Money with Fewer Cargo Inspections
Event type: In-class seminar
Date: Thursday, May 18, 2017
Time: 9:00 am - 11:00 am Pacific Time
Place: ABC Customs Brokers, 17637 1st Avenue, Surrey, BC
Fee: $97 CAD plus GST (per attendee)
Registration: Clicking the Register Online button will redirect to www.pcb.ca for online registration.
Customs-Trade Partnership Against Terrorism (C-TPAT) in the U.S. and Partners in Protection (PIP) in Canada are voluntary government-business initiatives to build cooperative relationships that strengthen and improve overall international supply chain and border security. Learn about the requirements for both programs to become a partner and trusted trader with CBP and/or CBSA.
Did you know C-TPAT importers are six times less likely to undergo a security related cargo examination, and four times less likely to be subject to a trade related examination than non-C-TPAT members. [Source]

Topics Include
C-TPAT and PIP overview
Eligibility
Benefits of membership
Security profile and the Portal
Certification

Validation
Security risk analysis
Business partner audit
Annual maintenance
Policy and procedure drafting
Attendee Comments
"I have a better understanding on what it takes to become C-TPAT or PIP certified." - Z. Kitanova, Global Logistics Supervisor, White Water West

Who Should Attend
Owners, Managers, Signing officers of companies seeking:
Eligibility information
To become a trusted trader

How to get started
Reduced border delays and inspections


Have questions or comments about this course? 888.432.5403 or email us today.
Register Online Register Offline