Education
Our Education Team is preparing for next season. Registrations will open soon.
About Trade Compliance Education »
Customized Education »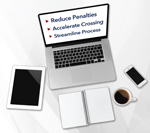 Trade Compliance Education
ABC Customs Brokers hosts a series of educational seminars and workshops to assist business owners, importers, managers, CFO's, purchasers and shippers on a variety of Canada Customs and U.S. Customs related topics such as:
ABC Customs Brokers aims to keep importers and exporters informed on changing customs regulations while educating them on the consequences of non-compliance. Whether you are new to importing, exporting or are seeking training on the movement of international goods, our trade compliance program will aim to match your needs.
Trade Compliance Webinars and Seminars
At our trade compliance webinars and seminars you will learn best practices on being compliant with trade regulations to help you expedite shipments rather than trigger costly delays. Every session includes adequate time for audience participation and the opportunity to get answers to your questions from our presenters or other subject matter experts.
Webinars
In a fast-paced industry, efficiency becomes just as important as staying compliant. Our globally accessible, cost-effective, concise webinars are a convenient way for trade professionals to stay ahead of new regulations with international trade and gain additional knowledge in key areas right from the comfort of their desk.
Seminars
At these in-person sessions, our experts share their knowledge through interactive lessons, compelling stories and workshop elements. Choose from a wider variety of trade topics than in our webinar format and connect with other like-minded professionals. Every attendee gets to take home a set of course materials and receives a Certificate of Completion in the mail. Many of our courses can also earn you points and credits towards the maintenance of your industry designations.
Customized Seminars and Webinars
ABC Customs Brokers will customize a session to suit a specific industry or a company upon request.